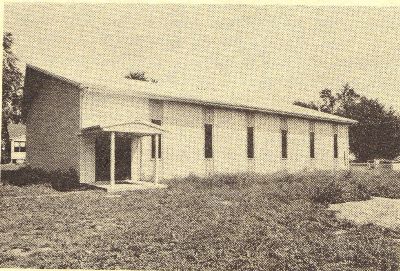 The Aldridge Tabernacle Church of God in Christ located at 344 Carlyle Street, Slater, MO. was preached out and established by Elder Leonard Jones in 1925. In 1927, Elder Jones resigned from the Slater church.
Following his resignation Elder B. Jones served a short pastorage. Several ministers came and conducted a series of revival meetings. Elder Ira Conole was appointed to be pastor by District Superintendent J.A. Tevebaugh in 1946. Next in succession of pastoralship were the following: Elder Pulliam, Elder E.G. Perkins, Elder Haycock and Rev. Gordon L. Alridge.
Elder Aldridge was installed as pastor in 1949 by Overseer Barker. He relocated his family from Kirksville, MO. Elder Aldridge pastored the church for the next 26 years until his health did not permit him to continue. At his passing in 1974, the church was left in the hands of Elder Frank Wright, Jr. who had become District Superintendent after the homegoing of Supt. Teverbaugh.
In a short time, Elder J.H. Harris of DesMoines, Iowa was appointed the next pastor and served for 6 years traveling back and forth to Missouri. At the reccomendation of Pastor Harris, Elder Charles Stephenson, Sr. begin served the church 1981, until his official appointed in May 1982, by District Supt. W.E. Wayland and the late Bishop C.N. Rucker.
Elder C.L. Stephenson, Sr. faithfully served the church and was appointed District Superintendent of the Marshall District in June 1993 by the late Bishop Moore. His ministry was blessed of the Lord for a glorious 16 years until his passing in Nov. 1999.
In the year of 2000, Elder Ernest Fisher was appointed pastor by the late Bishop Emanuel Newton. He served two years. In 2002, Minister Charles Stephenson, Jr. served the church without charge until his official appointment in October of 2003 by Supt. D. Wade and the late Bishop Emanuel Newton. Pastor Charles Stephenson, Jr. continues to serve the church faithfully today.
In July of 2007, the church name was officially changed to Powerhouse Ministries Incorporated. In June of 2008 a second facility was purchased in the city of Marshall, MO. located at 263 W. Morgan St. The church continues to thrive and has experience tremendous growth as God gives increase. The ministries has create numerous outreach ministries to meet the needs of the community as well as the world-wide mandate of God.